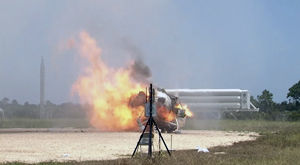 No one was on board, but the crash cost NASA $500,000
A NASA moon lander prototype crashed and exploded during testing yesterday afternoon.
The moon lander, called Morpheus, is a prototype spacecraft that is meant to carry around 1,100 pounds of cargo to the moon for future NASA space missions. Its engine is partially powered by methane.
The project has been ongoing for about two and a half years and has cost around $7 million.
But on Thursday afternoon, Morpheus took a dive during an engine test and then exploded about [1 minute and] 30 seconds later. No one was inside of the spacecraft when the crash occurred.
"The vehicle itself is lost," said Jon Olansen, Morpheus project manager. "But we are working currently on gathering more data and information to understand what occurred in the test and how we can learn from it and move forward."
To do this, the Morpheus project team will pull memory devices from the wrecked spacecraft and study the exact events that led to the crash. While the team isn't 100 percent sure yet, it suspects hardware issues.
Thursday's crash and burn cost NASA about $500,000, but the team added that this is why tests are performed in the first place. It's all part of the development process.
While NASA continues working on its transportation to the moon, it can continue celebrating its recent successful landing on Mars. Earlier this week, Mars rover Curiosity landed safely on the Red Planet in the Gale Crater, where it will explore for signs of life for two years. Curiosity is a one-ton, nuclear-powered, six-wheeled, Mini Cooper-sized machine that was originally called the Mars Science Laboratory (MSL).
The following is a video of the crash: