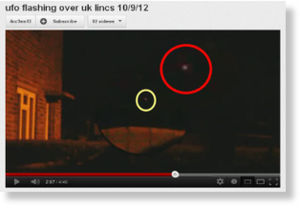 A red, flashing orb
UFO
was caught on tape hovering over the night skies of Lincolnshire, England. The unidentified flying object was strange enough for this eyewitness to set up a tripod and track it for several minutes on video.
The object just hovers in the sky, flashing colors between white and red, but it doesn't look like any conventional aircraft. A zoomed-in closeup seems to show the object spinning, unlike an airplane. The closest thing it resembles would be a surveillance drone, but if there are any that look like this, it's still a secret.
These flashing orbs have been seen much more frequently lately, all over the world. Some flashing blue, others solid white, and some, like this one, flashing red. In most cases, the objects don't make a sound or trail any engine exhaust.
This UFO video is remarkable because of the effort taken to document the sighting by the cameraman. A tripod was set up to get a steady shot and, afterwards, the object is enlarged for a better look. It doesn't help much, but it does show that whatever this thing is, it's not a familiar sight in the skies over Lincolnshire.