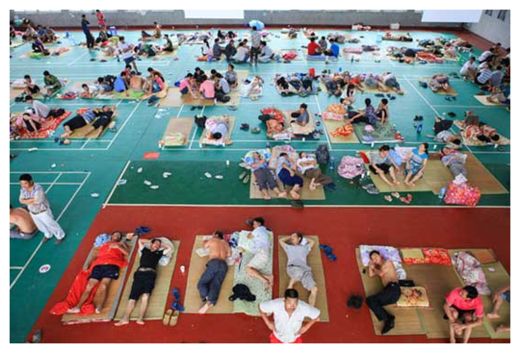 Typhoon Haikui left 4 people dead and forced more than 2.14 million people to be relocated by 4 p.m. Thursday in east China's Shanghai municipality and Jiangsu, Zhejiang and Anhui provinces, according to statistics from the Ministry of Civil Affairs.
In Shanghai, the typhoon has left 2 dead and affected 361,000 people, the ministry said, adding that 50 houses were destroyed and 700 others damaged.
In Jiangsu province, Haikui left one person dead and affected 662,000 people, and it destroyed 600 houses and damaged 2,400 others.
The typhoon also affected more than 7 million people in Zhejiang province, with 1.55 million people relocated, and it left one person dead and forced 163,000 others to be evacuated in Anhui province, the ministry said.
Officials and experts have been sent to rainstorm-battered Anhui province in east China to aid in local relief efforts, the Ministry of Civil Affairs said Thursday.
Haikui is the third typhoon to wallop China's eastern coast in a week, after storms Saola and Damrey hit the region over the weekend.