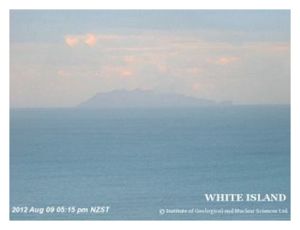 A lightning storm at least 30km away from White Island had Bay of Plenty residents thinking the volcano was erupting when flashes of orange lights were seen above it.
Residents throughout the Eastern Bay of Plenty stood outside their homes and gathered near beaches last night to catch a glimpse of the show described as orange flashes similar to lightning, which was lighting up the gloomy sky above the island.
While GNS Science confirmed yesterday afternoon that White Island, which sits 48km offshore and is one of New Zealand's most active cone volcanoes, had erupted, last night's spectacular light show was in fact a lightning storm up to 40km away from the island. Ash from the volcano has drifted as far as Tauranga's coastline, and has coated homes and cars along Papamoa beach.
Volcanologist Brad Scott told
The Daily Post
last night there was no seismic activity recorded from White Island, which meant the light flashes were not part of the eruption. Instead, he said there was a lightning storm recorded for about four hours until 9.30pm.
"There's a lightning storm about 30 to 40km out behind White Island,'' Mr Scott said.
GNS Science volcanologist Mike Rosenberg was reported last night as saying the crater lake on White Island was drying out, which was causing less water to be pulled into the ash cloud.
That was creating static which was being discharged as lightning.
"We're getting reports of big orange plumes and all sorts.
"It's a natural, typical phenomenon in ash cloud[s].
"It is not a sign of increasing activity, it doesn't mean there's been a big eruption ... it's blowing at the same intensity as it has been over the last few days.''
When Mr Scott was asked whether Mt Tarawera would be the next volcano to erupt, he told
The Daily Post
any volcano could awaken, but was unlikely.
With the eruptions of Mt Tongariro and White Island, Mr Scott said it would be rare for more than a couple at a time to erupt.
The Volcanic Alert Level for White Island was at 2, which means there has been minor eruptive activity.
Tongariro was at the same alert level.
GNS Science visited White Island yesterday morning and observations confirmed the volcano was erupting.
"This is the first ash emission from White Island since February 2001 and represents the start of a new phase of volcanic activity at White Island,'' Mr Scott said.
He said a vent had been established and was erupting an ash plume rising 200-300m above the active vent. White Island last erupted in 2001 and lasted some time. Mr Scott said this eruption was unlikely to end ''any time soon''.
He said visitors to the island should be careful.
"Visitors to White Island are now at the highest level of risk since the end of the 2001 eruptions. Additional hazards to visitors to the island now include the health effects of volcanic ash and acid gas exposure, including respiratory issues, skin and eye sensitivity to acid gases. Explosive eruptions can occur at any time with little or no warning. We advise a high level of caution should be taken, if visiting the island.''
Meanwhile, Eastern Bay of Plenty residents told
The Daily Post
they were watching the lights and believed the island was erupting while few thought it was actually lightning.
The Daily Post
reporter Katee Shanks said the flashes were ''spectacular''.
"It's like lightning but it's orange, it's a different colour. It's lighting up the sky. It's not really a bright sky. There's no stars out _ it's quite a gloomy sky anyway,'' she said.
She said there were quite a few people who had parked up at the Heads at Whakatane watching the lightning show.
Carrie-Anne Katu, who lives at the highest point of Coastlands directly in front of Whale Island, said at one stage there was one minute intervals between flashes.
She said she saw a Facebook post about White Island erupting so she ran to her balcony.
"A few seconds later a massive flash out at sea lit the sky red and orange. I call to my son Cullen who is 8 to come look, not even a minute later he witnesses probably the most amazing thing he's ever seen. By then we are both buzzing.''
She said she was disappointed when her dad told her it was just lightning.
Meanwhile, a potentially toxic chemical has been detected in ash from Monday night's hydrothermal eruption of Mt Tongariro.
Seismic activity in the area has been low since the blast, with only a few small volcanic earthquakes recorded.
Analysis of the ashfall by Massey University has found moderate levels of potentially toxic fluorine.
Professor Shane Cronin said because of the restricted distribution and very thin ashfall it posed no threat to human health or agriculture beyond the immediate vicinity of the volcano.
However, if larger eruptions of Mt Tongariro occurred, a significant agricultural hazard could be expected, he said. Drinking water in open troughs, used by livestock, may be contaminated, he said.
The soluble fluorine in the ash was similar to ash from Mt Ruapehu when it erupted in 1995 and 1996.
Mr Rosenberg said analysis of the ash also found there was very little, or no, new magma in it.
''This suggests that the [Tongariro] eruption was predominantly steam driven, but the involvement of magma in the future cannot be ruled out,'' he said.