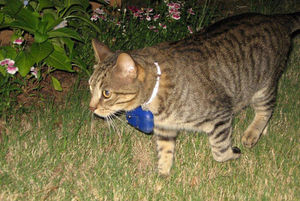 The cameras recorded the cats' outdoor activities and showed that they are hunting down more critters than expected
A new report gives new meaning to the old phrase, "Look what the cat dragged in."
Researchers from the University of Georgia recently took a deeper look into the predatory lives of house cats by putting cameras around their necks. About 60 cat owners in Athens, Georgia enlisted their pet cats for the study.
For about four to six hours per day for seven to 10 days, pet owners would place kitty cameras, which were made by the National Geographic CritterCam team, around their cats' necks and let them free outside. During that period of time outdoors, the camera would record all of the cats' activities. Later, the cats would be let back in and owners would download the footage.
According to the
National Geographic
CritterCam team, which makes mobile data gathering systems to record animal behavior, these kitty cameras were the smallest they've created to date.
The study found that only 30 percent of the 74 million U.S. house cats prey on smaller animals, but this 30 percent is taking part in much more outdoor hunting than previously thought. According to study leader Kerrie Anne Loyd, previous numbers were likely lower because "they didn't include the animals that cats ate or left behind."
While the study didn't give a total number of prey killed by the house cats, about 49 percent of critters killed by house cats were left for dead, 30 percent were eaten and just under 25 percent were brought home.
Of the total critters killed, 41 percent were lizards, snakes, and frogs; 25 percent were mammals like chipmunks; 20 percent were insects and worms, and 12 percent were birds. In fact, house cats are one of the reasons that one in three American bird species are becoming endangered.
In addition to killing prey, the house cats were taking part in dangerous activities like crossing roads, playing in storm drains, entering crawl spaces and eating/drinking things they found.