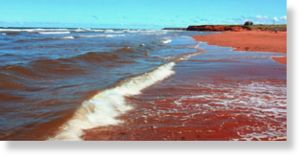 I'm bobbing on my back on the second largest body of water in the world.
Beneath me is the gentle push and swell of the Atlantic Ocean, 106 million square kilometres of water that stretches from the Arctic to the boundaries of the Antarctic Ocean.
Few things are more relaxing for me than mucking about in the ocean. But unlike a lake or river, here you're always aware of the huge, powerful entity in which you're immersed. Ocean water feels almost alive, a latent force that could go from playful to unimaginably powerful in the blink of an eye.
Which of course - as Maritime residents are all too aware - it can.
But for now, it's a comforting sensation as I float on the warm, shallow waters off P.E.I.'s north shore.
As a weak swimmer who loves the water, I've grown to appreciate sandbars and there's a doozy here at Cabot Beach Provincial Park.
A long way offshore, people are barely visible as they stroll along the ridge of sand built up by eons of wave action. Oceanic and geologic activity have combined to create the beaches for which this island is famous.
Watery worlds
According to my handy Geology of Eastern North America, I'm having fun in the wonderfully named "swash and backwash" zone.
You see, a beach is more than just a stretch of sand. Looking back toward shore from the sandbar, you'd first see the swash and backwash zone, then the countless grains of sand that make up the beach proper and beyond that, the dunes.
And looking out from the dunes, of course, is water, water everywhere.
The Atlantic is one of five major divisions of the salty water that covers 71 per cent of our world.
All that lovely liquid is the reason we're all here, of course. No other planet, that we know of, has such an abundance of this compound that makes life possible.
As for the source of all this swash and backwash, most likely we can thank a storm of asteroid rock that pummelled our planet-in-embryo, according to a study released last month.
Previous studies suggested that our planet's water came from ice-rich comets that struck Earth when our solar system was forming. But researchers from the Carnegie Institute for Science studied the chemical composition of meteorites called carbonaceous chondrites. They concluded that the isotopes, or the variations of a chemical element, in the meteorites were more similar to the material in the asteroid belt between Mars and Jupiter, and not the outer reaches of the solar system where comets form.
While Earth may have the struck the celestial mother-lode of H20, or rather it struck us, scientists seem confident that liquid water exists elsewhere in the solar system, such as under the surfaces of the icy moons of the planets Jupiter and Saturn.
Space dust storm
While we'll hopefully never see a return of the celestial bombardment endured by ancient Earth, our planet is still the target of a lot of space dust and rock fragments.
At particular times of the year, we get hit with a lot more stuff than usual, and voila, showers are in the forecast. Meteor showers, that is. These events occur when the Earth's orbit takes us into the remnants of a passing comet.
Next weekend, we enter the tailpipe of the comet Swift-Tuttle, which last passed by the Earth in The result is the Perseid meteor shower. This is likely the most popular shower with casual observers simply because it's a nice time of year to stay out and stare at the sky for hours.
As opposed to, say, the Leonids, which are visible on the not-so-pleasant nights of mid-November.
But you can lie back and enjoy the Perseids on a blanket with a light jacket on the night of Aug. 11 and into the early hours of Aug. 12.
And lunar washout won't be a problem this year because a thin crescent rises at about 2 a.m.
As with any meteor shower, it's best to find a safe place away from city lights that has clear horizons. The Perseids appear to radiate from the constellation Perseus, which rises in the northeast after midnight. But meteors will be visible in all parts of the sky.
And who knows? It might be warm enough to shed your outerwear and float on the liquid surface of your choice.
Sounds like a plan to this water-fuelled life form.
Out There is a column about nature, astronomy and outdoor activities such as hiking and birdwatching. It appears on the first Saturday of the month. Observations and questions are welcomed at

[email protected]

.
SKYLIGHTS
Aug. 9
: Last-quarter moon
Aug. 11
: Jupiter to lower left of waning crescent moon, which rises at 2 a.m. Star cluster Pleaides above moon.
Aug 11-12
: Perseid meteor shower peaks overnight Saturday with little interference from moon.
Aug. 13
: Venus to lower left of waning crescent moon in dawn east
Aug. 15
: Mercury to lower left of waning crescent moon low in dawn east.
Aug. 17
: New moon
Aug. 21
: Bright star Spica 1.5 degrees to upper right of waxing crescent moon in evening southwest. Mars to upper left and Saturn to upper right forms tight triangle with Spica.
Aug. 24
: First-quarter moon
Aug. 31
: Full moon (second of the month)