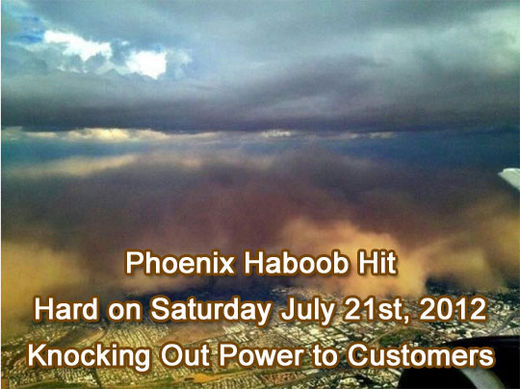 Yes, the name sounds a little crazy, but the term often associated with a major dust storm in an arid region is called a haboob. It's Arabic for "strong wind" and is something people living in Arizona and the Phoenix area are becoming used to.
The massive Arizona dust storm slammed into the Phoenix area on Saturday July 21st, 2012. The dust storm was relentless with extremely strong winds knocking out power to over 9,000 customers as
reported by the Tucson Citzen
. Other areas close by effected by the dust storm were Mesa, Scottsdale, Gilbert, Apache Junction, Santan Valley, Chandler and Casa Grande.
The winds reached gusts as high as 45mph throughout the Phoenix area. Some drivers had to pull of off the road due to zero visibility situations from the thick cloud of dust spreading across the city. Some area residents reported damages to roofs and vehicles. One resident of the Tempe area shared a video on YouTube that you can watch below that showed their roof being nearly ripped off.
People have been sharing numerous pictures & tweets from Twitter of the storm that they are hash tagging as
#haboob
. Some of their accounts are below: