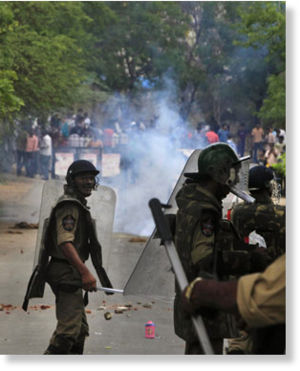 Guwahati, India:
About 30,000 villagers have fled their homes in northeast India amid clashes between Bodo tribal groups and Muslim settlers that have seen 19 people killed so far, police said on Monday.
Soldiers were out in force in the restive state of Assam to try to stop the violence over land rights, in which houses have been set ablaze and villagers forced to shelter in government buildings and schools to avoid the fighting.
"Clashes that broke out on Friday night have so far claimed the lives of 19 people and at least 12 (were) also injured," S.N. Singh, Assam inspector general of police, told AFP by telephone. "Police, army and paramilitary troopers have intensified patrols and a curfew has been imposed in many areas," Singh said, adding there were 30,000 people in the government shelters.
Four bodies were recovered by police on Monday from Kokrajhar district, about 220-km west of Assam's main city of Guwahati. The fighting, in regions close to the borders with Bhutan and Bangladesh, is the latest outbreak of violence over long-running territorial disputes.
During the regular bouts of unrest many people from both the Bodo and Muslim communities - particularly women and children - seek safety in designated schools and government offices. They are protected by soldiers and food is provided.