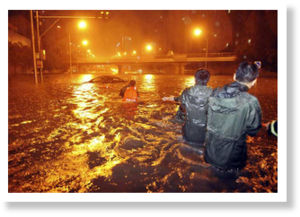 I was stunned to learn that a 20-hour thunderstorm that kept my family huddled in our Beijing apartment all day Saturday killed at least 37 people.
Late Sunday the Beijing city government issued a statement saying that 25 people drowned, six were crushed in collapsed homes, one was hit by lightning and five were electrocuted by fallen power lines. That death toll is more than double the dozen deaths reported earlier that day.
Overall, the rain and flooding in Beijing and its suburbs forced evacuation of nearly 57,000 residents and caused damage of at least 10 billion yuan ($1.6 billion),
the official China Daily newspaper added this morning
. That doesn't count the death and destruction from dozens of other storms reported elsewhere in the country.
Whew! Even as the storm progressed, I'd had no idea we were experiencing the heaviest rain to hit China's capital in six decades.
When I'd awaken to deep gray skies July 21, it was clear something more sinister than Beijing's notorious "fog" (read: pollution) lay in store. I took it as a gift, the perfect excuse for a quiet day at home. I had been exploring the city alone with my 6- and 9-year-old sons for five days straight; my husband was on a business trip back to the U.S. and we were all ready for a break from the unintelligible bustle.
Over the course of the morning, my mood kept pace with the ever-darkening sky. I was reading unfolding accounts of the shootings in Colorado as the torrents of rain began pelting our second-story windows. Blissfully ignorant of both the shootings and the storm's severity, the boys chiseled away at the plaster entombing a toy dinosaur.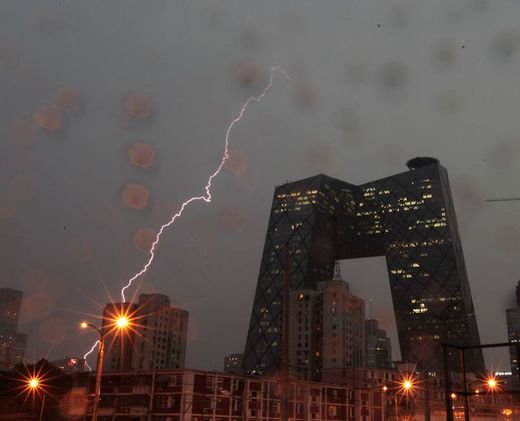 By early afternoon, still wrestling with tearful emotions, I glanced out to a sky black as a moonlit night. The boys had long since excavated their miniature brachiosaurus and were now hiding inside a fort they constructed between the couch and the kitchen table using every sheet, pillowcase, and blanket in the house. Little did any of us know that so many other people were simultaneously suffering serious discomfort, even terror:
At the Beijing airport, hundreds of flights were delayed or canceled, stranding some 80,000 people. Continuing into the night, the rain knocked down trees and trapped cars and buses in waist-deep water in some place. Firefighters
pulled cars down deluged streets
and
rescued commuters from a submerged double-decker bus
. In Beijing's southwestern district of Fangshan, a party was cut short as rising floodwater forced the 25-year-old hostess, her guests and some 50 neighbors to their rooftops to await rescue.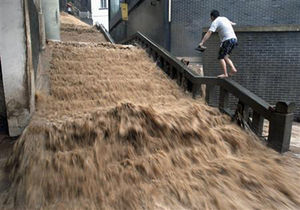 The
China Daily
paper reported that news from Fangshan today, naming it
Beijing's hardest-hit district
: 20,990 of the 56,933 people evacuated from the city came from Fangshan, in part to avoid landslides. Across Beijing, the average rainfall was 6.7 inches, the highest rainfall recorded in a single day since 1951; in Fangshan the rain topped 18 inches.
As for the kids and I, we ventured out into the downpour around 6:30 p.m. for dinner, still naive to the full reality of the storm. We stomped gleefully through puddles just a tad deeper than our shoes, relieved to see that the restaurant downstairs was still open. The welcoming smiles of the familiar wait staff significantly brightened an otherwise dreary day.
Looking back a month to conversations I had with Chinese acquaintances back home in Riverside, Calif., I vaguely recall one of them mentioning that July through September is the "rainy season." I know now that flash floods are common in parts of China this time of year - but
not
in relatively dry Beijing. Here such a heavy downpour is quite extraordinary.
I count it as a lesson learned: you can bet we'll think twice before leaving the apartment the next time it rains.