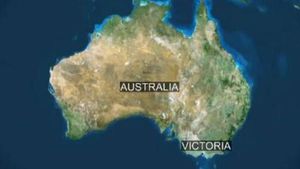 A magnitude 4.5 earthquake has struck Victoria this evening.
The quake struck in Moe, 117km east south east of Melbourne, at 7.11pm.
A number of Twitter users across Victoria have reported feeling tremors but there have been no reports of damage so far.
A seismologist with Geoscience Australia, Jonathan Bathgate, said the quake felt this evening was an aftershock from the 5.4 earthquake that struck 16km southwest of Moe last month.
"There have been in excess of 200 aftershocks since the June 19 earthquake," he said.
"This one is the largest recorded."
The scientist added that the aftershocks could conceivably carry on for a number of weeks.
Members of the public have been urged not to dial triple zero unless there is an emergency.
An SES spokesman told
Sky News
during the last Victorian earthquake emergency services received around 20,000 phone calls just to confirm the quake had taken place.
A woman from Brunswick in Melbourne said she felt the tremor as she checked her email.
"Well, I had just got home and sat down to check my e-mail, when I felt the building shake and the windows and the objects on my desk rattle," she told AAP.
The Voice's Chris Sebastian tweeted "I was finally in Melbourne for an earthquake!! Yes!!"