A New Jersey man says he was nearly hit by a small meteorite as he walked off of a baseball field Sunday night.
It happened about 10:24 p.m. at Votee Park on Palisade Ave. in Teaneck, N.J.
Pedro Dominguez says he was picking up bases and he saw something hit the ground about two to three feet in front of him.
He says the little rock, slightly larger than a pebble, was traveling at a pretty high rate of speed.
At first he thought someone on his team might have thrown something at him, but after realizing they were having a team meeting and hadn't done anything, he went back and found the rock.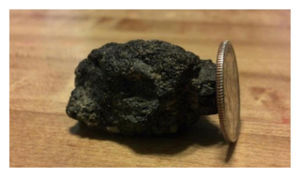 Dominguez says he assumed it was going to be hot, but said it was cool to the touch, even though the temperatures were quite that night.
He went home and did a little research and said that some meteors contain a lot of iron and will attract magnets.
The one he found was not very magnetic but a magnet did stick to the rock.
Dominguez says it could have really hurt him if it had hit him.
Friends told him he should sell it but he's not sure what he's going to do with the presumed space rock just yet.