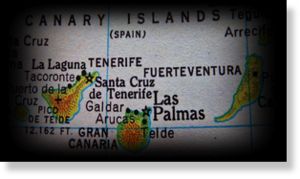 "It was a large thing floating in the air, projecting a beam of light from within."
An eyewitness to the sighting of the unidentified flying object reported over Gran Canaria has assured this newspaper that it was "very large, round, surrounded by lights, and projecting a powerful light toward the ground."
She was able to see the device "clearly" despite being at the wheel of her vehicle. According to the same source, remained suspended and quiet for a considerable period of time over Barranco de El Aguila in southern Gran Canaria. The slight fog at that time of the morning caused cars to travel at a slower speed than usual, giving her the chance, as she said "to see it clearly."
The witness, who was on her way to work when the events occurred, and who prefers to remain anonymous, explained that she was "very startled" by what she saw, "above all by the powerful light projected from under the device." The witness states that she was frightened "for a moment, but I indeed saw it. Of that I'm certain."
"It was a large thing floating in the air, projecting a very intense beam of light from within," adds the woman, explaining that the powerful "flash of light" bathed the slopes of the Barranco de El Aguila canyon, in the vicinity of the Bahia Feliz tourist area in the municipality of San Bartolomé de Tirajana. The witness denies hearing any unusual sounds aside from the ones normally heard of that time.
Note from the Newsroom: A photo appeared on the cover of our newspaper for a number of hours whose authenticity has not been ascertained and without the credits that must accompany any image appearing on our web. Publication of this photo, seemingly taken from a blog that has neither been named nor linked, has been made without the knowledge of the persons responsible for the newspaper and against the editorial guidelines that govern this website. We have therefore proceeded to remove it, and we apologize to the authors of the image and the blog. [...]
(
Translation (c) 2012, S. Corrales, IHU. Special thanks to Canarias 7 and Guillermo Gimenez, Planeta UFO
)

Source: Canarias7.es (Spain)