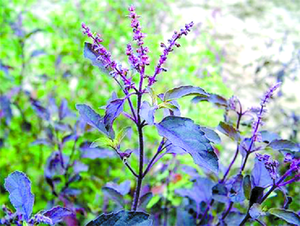 Holy basil (
Ocimum sanctum
) is an herb native to India, where it is known as tulsi. It is sacred in the Hindu religious tradition and is regarded as one of the most important plants used in
Ayurvedic
medicine. If you go to India, you will see holy basil growing in profusion around Hindu temples. It comes in red and green varieties, both with a strong, pleasant aroma. More clove-like than that of culinary basil, holy basil has been used for centuries to treat a variety of medical conditions including heart problems, asthma, bronchitis, arthritis and eye disorders. Although historically it hasn't been used for cooking, some American cooks have begun to experiment with it.
In the past decade or so a number of scientific studies have looked at holy basil for various treatment purposes. All of these studies have been done in animals, usually laboratory mice and rats, so we can't be certain that results will translate to humans. Findings from these various investigations suggest that holy basil might have some effects as a painkiller, a COX-II anti-inflammatory agent, an antioxidant, and as a treatment for bacterial, fungal and even viral infections. There is also evidence (again, only from animal studies) that holy basil might help control blood sugar.
The most compelling evidence I've reviewed indicates that holy basil may help counteract the effects of stress. In fact, preparations made from holy basil are widely used to treat stress-related health problems in India and elsewhere. One study, published in 1991 in the
Indian Journal of Pharmacology,
compared holy basil to Siberian ginseng (
Eleutherococcus senticosus
) and Asian ginseng (
Panax ginseng
) and found that holy basil was the most potent anti-stress agent of the three, and also had the highest margin of safety. However, this study, as well as a dozen others I found in a search of the medical literature, was conducted in laboratory animals, not humans.
I know that holy basil is being promoted as a treatment for reducing both stress and elevated levels of the stress hormone cortisol, and to promote physical and emotional endurance. My feeling is that if you're seeking to manage stress,
breathing exercises
and regular aerobic exercise are more important first steps.
Practicing regular, mindful breathing can be calming and energizing and can even help with stress-related health problems ranging from panic attacks to digestive disorders.
However, some practitioners tell me that they see good results with holy basil in combination with lifestyle modification and that this herb works quickly.
Comment:
To learn more about the benefits of 'practicing regular mindful breathing' visit the Éiriú Eolas Stress Control, Healing and Rejuvenation Program
website
.
Éiriú Eolas (pronounced "AIR-oo OH-lahss"), the amazing scientific stress-control, healing, detoxing and rejuvenation program which is THE KEY that will help you to change your life in a REAL and immediately noticeable way:

Proven benefits of the Éiriú Eolas Program include:

instantly control stress in high energy situations
detox your body resulting in pain relief
relax and gently work through past emotional and psychological trauma
regenerate and rejuvenate your body/mind.
My colleague Jim Nicolai, M.D., medical director of the Integrative Wellness Program at Miraval Resort and Spa in Tucson, tells me he has great success with holy basil. Most of his patients have stress-related conditions, and holy basil is at the top of his list of plant-based strategies to target such issues. His personal experience is that it lengthens his "emotional fuse" and leaves him feeling calm and balanced in otherwise stressful situations. Use extracts standardized to two percent ursolic acid in 400 mg capsules. Dosage is two capsules, once or twice daily with food.