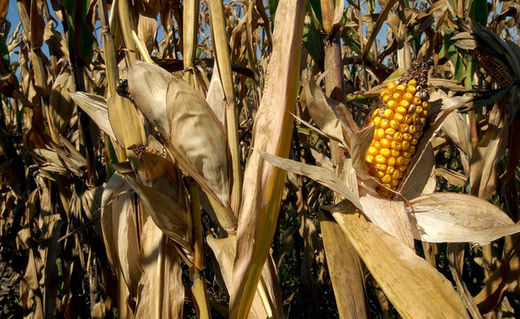 The American Medical Association called for mandatory pre-market safety testing of genetically engineered foods as part of a revised policy voted on at the AMA's meeting in Chicago Tuesday.
Currently biotech companies are simply encouraged to engage in a voluntary safety consultation with the Food and Drug Administration before releasing a product onto the market.
Some activists concerned about foods made with genetically modified organisms, or GMOs, had hoped the association would have gone so far as to support mandatory labeling of genetically engineered foods. But some still view the policy change as a major breakthrough.
"We applaud the AMA for taking the lead to help ensure a safe and adequate food supply," said Anne Dietrich of the Truth In Labeling Campaign, which advocates labeling of genetically engineered foods. When Monsanto Co., the world's largest biotech seed company, testified Sunday at the AMA committee hearing on the policy, its representative did not raise any objections to the mandatory safety assessment provision.
On Tuesday, however, Monsanto spokesman Tom Helscher would not say whether or not the company supports mandatory pre-market testing, only that the current voluntary consultation process "is working," he wrote to the
Tribune
.
"All of Monsanto's biotech products, and to our knowledge all those of other companies, go through the FDA consultation process, which provides a stringent safety assessment of biotech crops before they are placed on the market."
The AMA's Dr. Patrice Harris said the testing provision was aimed at addressing public interests and ensuring public health.
"Recognizing the public's interest in the safety of bioengineered foods, the new policy also supports mandatory FDA pre-market systemic safety assessments of these foods as a preventive measure to ensure the health of the public," Harris said in a statement. "We also urge the FDA to remain alert to new data on the health consequences of bioengineered foods."
Tuesday afternoon FDA officials would not say whether the department supported mandatory testing. "New foods have an obligation under the Federal Food, Drug & Cosmetic Act to ensure that the foods they offer consumers are safe and in compliance with applicable legal requirements," the agency said. "In meeting their legal obligation, firms do conduct premarket safety testing."
The agency was referring to testing manufacturers commission for their own use.
Critics, however, argue that independent testing overseen by regulatory authorities often produces different results than testing paid for by the manufacturer.
After the policy was announced Tuesday, Consumers Union senior scientist Michael Hansen released a statement saying:
"We wholeheartedly commend AMA for coming out in support of mandatory pre-market safety assessment of (genetically engineered) foods, but are disappointed that AMA did not also support mandatory labeling. ... Studies in the scientific literature have suggested that genetic engineering could introduce new food allergens, increase the levels of known allergens, raise or lower nutrient levels and have adverse effects on the animals that eat such foods."
Just Label It
, the national campaign for the labeling of genetically engineered foods, issued a statement saying "
just the fact that the AMA even considered this measure is a significant win for the vast majority (91%) of Americans (see the Mellman Poll findings) who believe they have the right to know about the foods they eat and feed their families - a fundamental right already enjoyed by citizens in more than 50 countries worldwide, including all of Europe, Japan, Russia and China
."
The policy change happens as nearly 1 million petitioners await an FDA response on labeling genetically engineered foods and just five months before Californians vote on a ballot initiative to require mandatory labeling in the state.
The Grocery Manufacturers Association, which represents hundreds of the nation's biggest food companies, released a statement Wednesday that focused not on the recent changes to the AMA resolution but rather on what hadn't changed: the AMA's continued stance that labeling genetically engineered foods is unnecessary because it considers them not to be materially different from other kinds of food.
"We commend the American Medical Association's House of Delegates for its vote in support of the continued use of genetically engineered ingredients in the food supply," the statement said.
Comment:
It is obvious from the above statement that The Grocery Manufacturers Association is another excellent example of a corrupt corporation that parrots the sound bites of biotech corporations like Monsanto. In addition, considering that GMO's are found in
80% of Supermarket Foods
it's not surprising The Grocery Manufacturers Association would '
encourage continued use of genetically engineered ingredients in the food supply
':
Monsanto: 'There is no need for, or value in testing the safety of GM foods in humans'
There is a growing body of scientific evidence which proves that genetically-modified organisms (GMOs) are inherently different from natural organisms, including the way the body processes them, as well as how the immune system responds to them. But Monsanto, the largest purveyor of GMOs in the world, believes that GMOs are no different than natural organisms, and that GMO testing is both needless and valueless...

Monsanto claims that its injection of foreign DNA into its GM crops is also automatically safe because, get this, DNA is present in natural crops as well. Never mind that the injected DNA is foreign and unnatural, and is used to alter the entire genetic structure of GM crops - according to Monsanto, its unnatural DNA is automatically non-toxic because every other plant also has DNA. Case closed.

Using this same absurd illogic, injecting foreign animal DNA into a developing human baby, for instance, must also be safe because that baby contains DNA, right? Or how about drinking antifreeze, which is made of atoms, because your body is also made of atoms? Based on Monsanto's pseudoscientific nonsense, everything can be considered non-toxic and safe because it is all made of atoms, just like our bodies!

Monsanto does not actually care about science, though, and has actually made it a point to just arbitrarily deny the need for actual GMO testing in humans to prove its claims. In concluding its unsubstantiated diatribe about why human testing of GMOs is unnecessary, the agri-giant says there is simply "no need, or value" in testing the safety of GMOs - in other words, if Monsanto says they are safe, then they are safe!

The fact that anyone considers this blind, self-serving declaration to be scientifically sound is frightening in and of itself, let alone the fact that the US government openly approves of such nonsense and has used it to form food policy.

To put it more simply, GMOs have never been properly safety tested in humans because Monsanto does not feel it is necessary, and most of those in control of food policy are perfectly content with this.
The association did not respond immediately to queries about whether it supports mandatory pre-market testing provision.