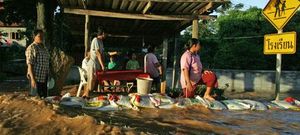 A flash flood last week smashed a hilltribe shelter in Mae Hong Son, killing seven occupants and injuring a few others.
The area had suffered days of heavy rain triggered by the lingering influence of tropical storm Nock-Ten.
Scores of hilltribe people, mainly Karenni, were seeking refuge at the shelter after fleeing armed fighting in Burma. Altogether 346 households have been affected. One person of unknown nationality was reported missing.
The seven bodies were retrieved and subjected to verification of death and identification in neighbouring Tak before they were cremated in a ceremony organised by survivors and Thais of Karenni descent.
Two communities were accommodated at the shelter, which was located between Mae La-oon and Sob Moei districts. Initial rescue attempts and medical assistance were made difficult by the high waters and raging currents.
Four Thais, including three children, were hurt after they were swept away by torrential currents.
In Nan, more than 400 homes in Tha Wang Pha district were submerged under two metres of floodwaters while landslides and falling trees blocked a main road, marooning villages. Many homes located along a large creek were inundated, leaving many residents stranded.
The 400 homes are receiving food and water while the main road is being cleared by civilian and military authorities.
In Phitsanulok, a long stretch of the Yom River was swelling and burst its banks at spots, submerging nearby areas under one metre of water.
Farmers were rushing to harvest their rice and sell their crop at a cheap price.
A farmer estimated that about 10,000 rai of farmland had been washed out, while the local relief agency had not made a statement on flood damage to property.
The Yom River in neighbouring Phichit was also inundating vast areas in Sam Ngam district with one metre of water. All 12 villages in Tambon Rang Nok, the lowest area in the district, had been hit and are bracing for worse floods in the next few days.
Flooding in Phichit has affected 5,913 households of 175 villages in seven out of all 12 districts, covering more than 81,000 rai of farmland and fruit plantations.