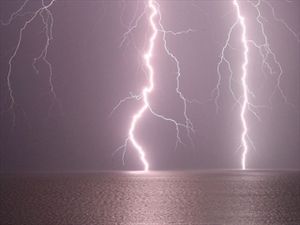 Five thousand lightning strikes danced across southeast Queensland skies overnight but the thunderstorms were not as severe or damaging as the weather bureau expected.
The thunderstorms produced 5000 lightning strikes since 11pm (AEST) on Tuesday, with more than 16,000 homes losing power, electricity company Energex said.
The worst hit suburbs were in Brisbane's north and around Logan.
'Most of the lightning strikes went all the way to the ground,' an Energex spokeswoman told AAP.
Only 418 homes still waiting to be reconnected at 6am (AEST) on Wednesday, she said.
More storm activity could be on the way for Brisbane, Ipswich, Gold Coast and Sunshine Coast later in the evening, the Bureau of Meteorology warns.
Senior forecaster Peter Otto told AAP the thunderstorms were about 12 hours earlier than expected.
'In terms of lightning it looked pretty spectacular but ... it didn't quite hit the mark in terms of being a severe thunderstorm,' he said.
'From what I'm seeing in the gauges, it wasn't incredible rainfall. It was of the order of 50 to 60mm in an hour in some parts.'
A police spokesman told AAP a large fallen tree had to be cleared from the Pacific Motorway at Eight Mile Plains.
An emergency services spokeswoman told AAP there had been no calls to the State Emergency Service (SES) as of 6am (AEST).
'None at this stage, but as people wake up they might find they need us,' she said.